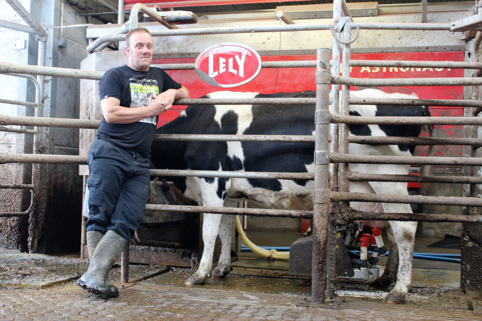 Robots offer route to improved dairying efficiency
A shift to a robotic milking system has helped one Devon dairy improve health and performance and has also driven down the farm's carbon footprint, reports Dairy Farmer.
Labour saving may be the headline benefit associated with robot milking, but dairy farmer Stuart Broom has witnessed far greater advantages than just more time on his hands.
He believes a complete system change, which has seen cows housed all year round and run through two milking robots, has lead to less mastitis cases, improved fertility and better use of farm resources. It has also reduced labour input and created a more sustainable future for the family farm at Cullompton.
"We've noticed a physical change in the cows," says Stuart, who installed the robots in January 2014. "They can do what they want and they're not penned up in the shed twice a day to be milked so they're under less stress, which I believe is why mastitis has come down."
A reduction in mastitis has been reflected in less intramammary tubes used per cow. This now sits at 1.02 for the June 14 to May 15 year, versus 1.83 for the previous period. Calving interval has also declined from 427 in July 2014 to 401 days in September 2015 (see table).
Ultimately, all of the advantages of the new system have resulted in improved efficiencies which will only serve to benefit the bottom line. However, the changes have also been reflected in the farm's carbon footprint.
In April 2014, the farm had a footprint of 1,369g/litre. In April this year, this had dropped by 164g/litre to 1,204g/litre. This is the equivalent saving in carbon of 13 fewer flights around the world. When the farm started measuring farm efficiency in 2011, the footprint was even higher at 1,729g/litre.
Stuart started undertaking annual carbon footprinting about four years ago through his milk processor, Arla. Since then he has continued on a voluntary basis and believes the report compiled by Alltech E-CO₂ acts as a useful gauge of farm efficiencies.
"The report is a useful benchmarking tool to see where you stand and how efficient you are," he says. "It's useful to be able to look back and see how things have improved."
Like many farmers, Stuart was initially sceptical as to the role of carbon footprinting on a practical level. It was only after an Arla farmer meeting that he became aware of the role of farm efficiencies in driving carbon footprint down.
"We've always had a lot of things in place to reduce electricity and diesel costs, such as heat exchangers and using day and night electric. It was only after the meeting I started to think about efficiencies of the business," he explains.
Carbon dioxide from electricity production actually only represents an average 2-3% of a farm's overall carbon footprint. In comparison, methane produced by the cow is worth 25 times that of carbon dioxide. As a result, bigger reductions in carbon emissions can be gained by improving the efficiency of the cow. This is about maximising milk production and reducing any factors which could inhibit production efficiencies such as lameness or sub-optimal fertility. Putting steps in place to address these factors will help the UK meet industry targets to reduce the carbon footprint of agriculture by 11% by 2020, compared to 2008.
Prior to system changes at Bolealler Farm, the 100 cow herd yielded 5,700 litres a cow a year, run on an organic system and grazed in the summer. Stuart says the shift to a conventional non-organic system, milking with robots, and upping numbers to 130 head means the farm is making better use of resources.
The fact milk yields have increased by 30% to 8,198 litres a cow a year, while feed rate has stayed similar at around 0.34kg/litre, means efficiencies have improved, which will impact positively on carbon emissions, as well as income. In general, any steps to utilise feed more effectively, by balancing rations effectively or producing high quality forage to replace bought in feed will reduce emissions.
With no particular passion for grazing management, housing cows all year round has also provided greater control over grass and more flexibility in cropping. Stuart believes not having milkers and transition cows at grass has also helped achieve greater control of nutrition. This has avoided diet changes at spring turn out and the subsequent dip in conception rates traditionally seen. Milk fever is now "a rarity".
Having originally fed cows a flat rate through the parlour, the herd is now fed to yield through the robots. This helps prevent cows from getting over fat in late lactation which could detrimentally affect fertility.
Cow comfort has also been improved in the shed with new cubicle mattresses and metal work installed and straw replaced with sawdust and lime.
Technology has also been a significant factor in health improvements. This includes collar mounted activity monitors for heat detection and rumination monitors. Collars were used prior to the robots, so heat detection rate has remained constant. However conception rate has increased from 32% in July last year to 42% in September this year, explains vet, Martyn Whitehead from The Vale Vet Group.
"As a result of improved conception rate, more cows are in calf by 100 days post calving, and therefore there is an improvement in calving to conception interval and calving index. The financial impact of this should be better milk yields per cow per year, and reduced involuntary culling for infertility," he says.
In-line conductivity monitors also automatically flag up early signs of mastitis and high somatic cell counts. This allows prompt treatment where necessary, in line with protocols drawn up with the farm's vet.
Moving forward, Stuart hopes to increase cow numbers to 170, reduce the number of forced culls and improve conception rates and mastitis further. He believes the carbon footprint report will become even more useful as a means of comparing the improvements brought about by the system change. The recent installation of solar panels to power the robots should also reflect positively on the next carbon footprint report.
"Doing the carbon footprint report shows we're working with our processor and demonstrates that, as an industry, we are doing the right thing."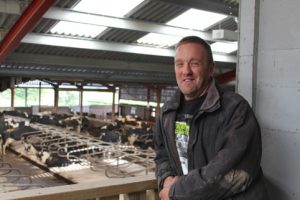 Stuart Broom values his annual farm efficiency assessment as it allows him to monitor the progress being made across the business.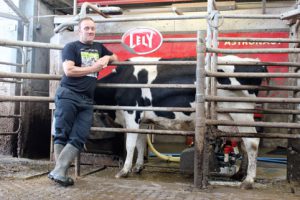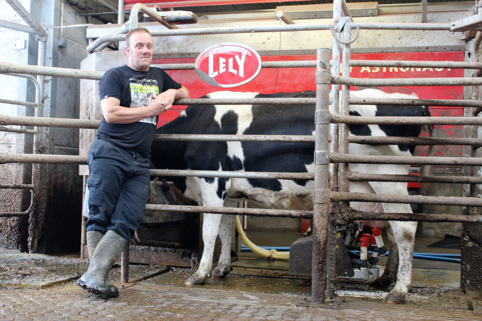 Robotic milking has helped Stuart Broom improve his overall dairying efficiency.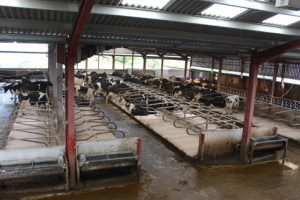 Feed efficiency and fertility have been two of the main factors in reducing the herd's carbon footprint, which effectively means the farm is more profitable.
Improvements in fertility at Bolealler Farm (robots installed January 2014)