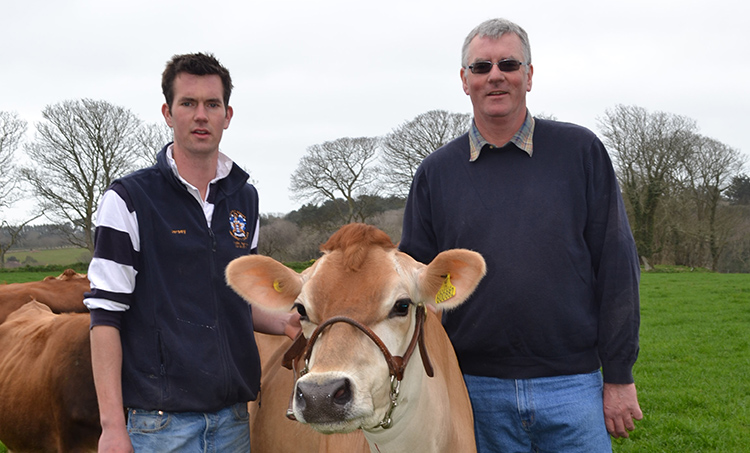 Efficiency assessment supports farm expansion
Carbon and water efficiency assessments are helping family farming business Master Farms identify opportunities to save money whilst expanding the milking cow herd to meet new market opportunities.
Philip Le Maistre farms in partnership with his brother Peter in the parish of Grouville. The Le Maistre family has been farming this south east corner of Jersey since 1841 and the latest sons – Philip junior, Matthew and nephew John Edward – are also employed in the enterprise, which is now the only truly mixed farm left on Jersey
Master Farms now covers 1200 vergées (about 530 acres) and integrates prime arable land growing Jersey Royal potatoes with an expanding Jersey dairy herd. About 140 acres are also dedicated to a developing organic vegetable operation, which produces high quality courgettes, cauliflowers, broad beans and Tenderstem broccoli.
"My son joined the business full time three years ago and this kick started an expansion of the milking herd. The dairy market is tough for farmers at the moment but locally there's good demand for our milk thanks to the marketing efforts of Jersey Dairy. An exciting new UHT milk project in Hong Kong and good demand for soft mix Jersey ice cream from the UK have given us confidence recently to make a significant investment in better facilities at our Westlands Farm dairy unit in La Route du Francfief, Saint Brelades," Philip Le Maistre says.
This dairy unit investment has included a new 8:16 herringbone parlour – initially installed in 2010, but upgraded to a 10:20 in 2015 – a new cubicle building for the milking cows, increased slurry storage capacity and additional loose housing for youngstock. Following an amalgamation of the two family herds in October 2015, the Master Farms newly consolidated all-year-round calving dairy herd is now 200 strong with the aim of having 150-160 cows in milk at any one time.
"Our original parlour simply wasn't up to scratch and wouldn't have passed the more stringent dairy farm assurance requirements coming in. But there's also no doubt in my mind that we are more efficient as a result of this machinery investment – and the other facilities are starting to pay for themselves too," Philip says.
Commitment to efficiency assessment
Alltech E-CO₂ has been helping the family monitor progress over the last few years and the company's Dairy Swift-EA™ and Aqua-print™ carbon and water assessments have both helped identify opportunities to improve business efficiency.
"The assessments have been excellent and really given us food for thought," Philip says. "The whole process has certainly helped highlight where we can be more efficient."
The Master Farms carbon performance is currently running at 1,162 g CO₂ emitted per litre of FPCM, slightly above the Jersey Dairy average. But Philip believes this will drop as various management issues associated with the merger of the two herds last autumn iron themselves out.
"As we increase the total milk sold off the premises from the same facilities our efficiency will improve. The good news is that our most recent assessment shows our average feed rate per cow and per litre falling (to 1.48kg/cow and 0.3kg/litre respectively). Resource use has also decreased and we are certainly using less diesel and nitrogen than we were before."
The family management team has also improved the dairy unit's water consumption and usage efficiency. This is now 6.3 litres/litre of milk sold – a reduction of 2 litres/litre of milk sold on the previous assessment for the year 01/01/2014 to 01/01/2015 – and some way below the Jersey Dairy average of 7.4 litres/litre of milk sold.
"To be fair, the significant increase in cow numbers has helped us to achieve this improvement, but the water assessment has also encouraged better awareness of water use and consumption. In addition, the recent construction of new buildings will make it easier to collect rainwater and re-cycle it. We also updated our heat recovery system three years ago and are now able to re-use water to cool the gas refrigerating the bulk tank, which then emerges at 45-50°C to boost our hot water wash-down supply."
Philip Le Maistre is now a strong advocate of carbon and water assessments. "Without an understanding of how efficient your farm operation is you can't set realistic targets for improvement. To be able to monitor how you are doing is absolutely crucial in the modern dairy farming environment. And when the assessment process and its inherent benchmarks help you identify opportunities to become more efficient and therefore more profitable, it can only be of benefit to any dairy business that undertakes these assessments," he says.
The ability to spread business risk at Master Farms is important and the very different potato, organic vegetable and dairy enterprises integrate well together, helping overall business efficiency.
"By the end of May we have typically lifted two thirds of our Jersey Royal potato crop, which means we can sow grass, maize and cereals in to feed the cows off these acres. The crop rotation we can achieve also helps reduce our fertiliser bill. As a result I'm optimistic about the future, confident in the knowledge too that we can monitor our efficiency on an on-going basis," Philip says.