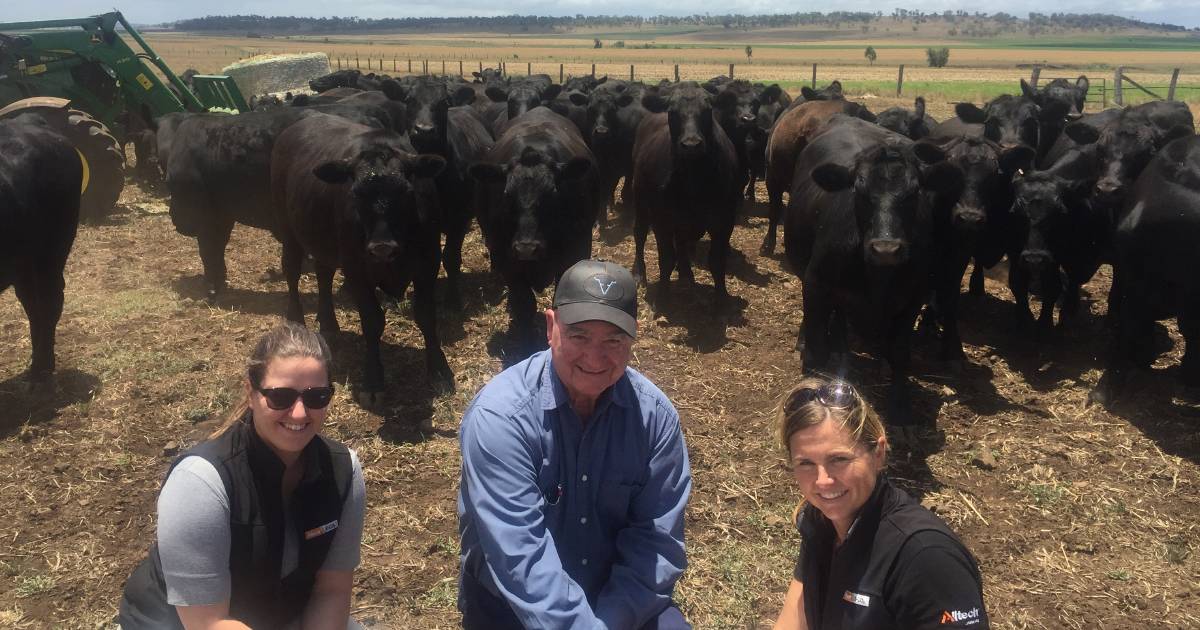 How Ken captured his farm's carbon footprint
BIDDESTON cattle producer Ken Baldwin says he jumped at the opportunity to assess the carbon footprint of his beef operation on the basis it would help him to grow better cattle.
Mr Baldwin, who typically buys in a B-double of selected Angus steers each year to feed on his 146 hectare property Enterprise west of Toowoomba, said he was constantly amazed at how increased performance could be achieved by paying attention to the details. Mr Baldwin is currently feeding 74 Angus steers sourced from south west Queensland.
"I've been working with the team from Alltech for quite a while and I think we have a pretty good system," Mr Baldwin said. "We know how the cattle perform in terms of genetics, so I reckon it is my job as a beef producers to do everything I can to maximise that potential.
"The thing I really love about farming is that we can always improve. I can see a big benefit in converting emissions into more beef. That has to be a better way to go, especially when it is directly linked to profit."
The steers are fed a combination of pasture and crop as well as pellets through Advantage feeders. The pellets are supplied by Riverina in Oakey and include the Alltech nitrogen source Optisync to improve rumen efficiency. The steers are either turned off at about 400kg-plus as feeders or taken through to 640kg meatworks weights.
Susanne Roth, who heads Alltech E-CO2 in Australia, said it was no surprise that the most efficient animals had the lowest carbon footprint.
"It comes back to optimising feeding regimes and maximising the function of the rumen," Dr Roth said. "Animals in feedlots do emit more emissions compared to an animal in the paddock because their feed intakes are so much higher. But in terms of carbon footprint, cattle in a feedlot are producing so much more beef that they ultimately have a lower carbon footprint."
UK-based Carrie Bellas (left in featured image), who has been working with E-CO2 around the world, said the carbon measurements were being driven by consumers through the major retailers.
"Supermarkets want to be able to assure consumers that the beef they are eating is produced in a sustainable system," Ms Bellas said. "What we're able to provide is a certified measure of the beef component of a farm. Producers can not only benchmark their carbon footprint, but more importantly identify opportunities to improve the efficiencies of their cattle and ultimately make their farms more profitable."
Article written by Mark Phelps from QLD Country Life. Click HERE to view his webpage.