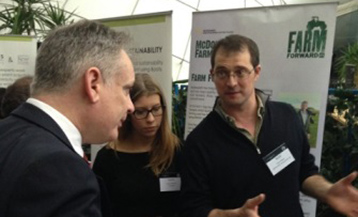 McDonald's and E-CO2 at the Scottish Retail Consortium's Annual Parliamentary Reception
The Scottish Retail Consortium hosted its annual Parliamentary Reception at the Dynamic Earth Centre in Edinburgh on the 17th January 2015 and the focus of the event was to demonstrate the commitment by retailers in Scotland to reduce their environmental impact. Andrew Wynne of E-CO2 attended the event alongside Sustainable Beef Club (SBC) farmer, Scott Aitken, as part of the McDonald's team.
Andrew demonstrated the 'What If?' Tool and Scott discussed the benefits of McDonald's Sustainable Beef Club membership to visitors and were fortunate to have the opportunity to talk with Richard Lochhead MSP, Cabinet Secretary for Rural Affairs and the Environment.
The 'What if?' Tool provided a good level of differentiation from other stands and Scott spoke about his experience as an SBC member and McDonald's supplier.
E-CO2 are working with a group of around 30 farmers in Scotland who are all members of the SBC. The 'What If?' Tool has proved to be a great success receiving excellent feedback from farmers within the group, especially being able to benchmark their individual data alongside group data. The tool is undoubtedly a valuable addition to farm business management.
The 'What If?' Tool provides a snapshot of financial and environmental performance and allows users to enter current KPI data. Users are then able to change the KPIs to reflect where they would like their performance to be, with the tool then showing the financial and carbon impacts of the proposed change. The tool offers a chance to try changes in theory, before implementing them on farm.
During the event, the 'What If?' Tool was demonstrated to a number of delegates, including Andrew Murphy, Chairman of the SRC and Retail Director of John Lewis, as well as a number of Members of the Scottish Parliament (MSPs) who all proudly stated that farmers within their constituencies would find the tool beneficial to business management.
In conjunction with the event, a report entitled 'A Better Retailing Climate: Driving Resource Efficiency in Scotland' was launched which gives practical examples and case studies, including McDonald's Sustainable Beef Clubs and the 'What If?' Tool.
Key Statistics from the report include:
Since 2005, signatories including Asda, B&Q, Boots, Debenhams, Greggs, Homebase, John Lewis, M&S, McDonalds, Morrisons, Sainsbury's, Tesco, The Co-operative, TK Maxx, Waitrose, WH Smith, Wickes and Wilko have exceeded all the targets launched by the SRC in 2008 by:
Cutting energy-related emissions from buildings by one third;
Cutting greenhouse gas emissions from supermarket refrigeration by 55%;
Cutting energy-related carbon emissions from store deliveries by 29%;
Cutting the proportion of waste sent to landfill from 47% to 6%; and
Increasing water measurement in sites from 50% to an estimated 83%.
The 'What if?' Tool has proved to be a valuable business management tool, not only for SBC members but for farmers across the globe including Brazil, Canada and Australia. As production margins become increasingly tight, E-CO2 are pleased to be able to provide useful tools to help farmers increase their profitability whilst combatting climate change in agriculture.