Meetings & Consultancy
Alltech E-CO2 offers straightforward, practical advice to deliver the recommendations and improvements identified through our range of tools and services. 
Our trained team works with industry and individual producers to bring increased farm efficiency and profitability, while reducing environmental impact.
Our range of consultancy services includes:
Dedicated team of on-farm consultant assessors
Clear and concise practical advice for producers and industry
High-quality interactive farmer meetings featuring specialists and speakers from across the globe.
Driving on-farm improvements and encouraging knowledge transfer through farmer and industry data with key objectives and measurable outcomes
Interactive, internationally recognised CowSignals® workshops
Intuitive cost of production software to aid your farm business
At Alltech E-CO2, a flexible approach allows for a tailored range of services and solutions to meet individual customer requirements. This customised service enables us to help businesses across the feed and food supply chain become more efficient, profitable and sustainable. Alltech E-CO2 is also able to help customers react to market and consumer demands by providing independent, third party verified data.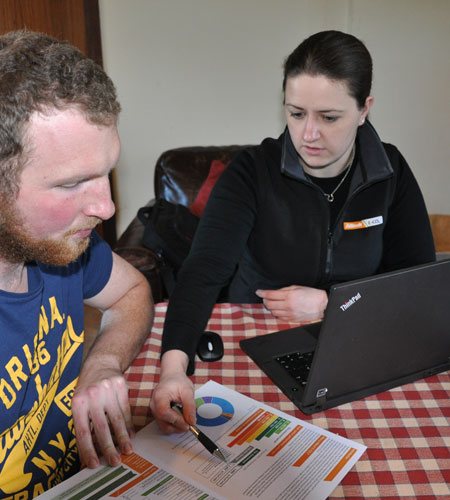 Alltech E-CO2 Farming Stats
THE AVERAGE FARM USES ENOUGH
ELECTRICITY TO BOIL THE WATER FOR
5092446
CUPS OF COFFEE A YEAR
THE AVERAGE ASSESSED HERD SIZE IS
000

COWS
PRODUCING 7,722 LITRES EACH
WE HAVE FOOTPRINTED OVER
00,000,000
QUARTER POUNDER
BURGERS WORTH OF BEEF
WE HAVE FOOTPRINTED OVER
0,000,000,000
LITRES OF MILK
ENOUGH TO FILL
0000

OLYMPIC
SIZED SWIMMING POOLS
THE AVERAGE LAND AREA
PER FARM ASSESSED IS
000

HECTARES
OR

000
FOOTBALL PITCHES