Keenan
In April 2016, KEENAN joined the Alltech family. Established in 1978, KEENAN is a respected leader in ethical and profitable farming solutions, focusing on maximising feed efficiency.
Over the course of nearly four decades in business, they have earned a particularly strong reputation for manufacturing quality mixer wagons with cutting-edge designs.
The KEENAN InTouch Hub interprets data for more than 1,000,000 cows from close to 10,000 farms in 25 countries around the world, representing one of the world's largest field databases on dairy feed efficiency.
A keen advocate for environmental sustainability, KEENAN have developed a range of solutions to enable farmers to overcome agricultural production challenges and improve rumen health and feed efficiency.
To find out more, please visit KEENAN at www.keenansystem.com.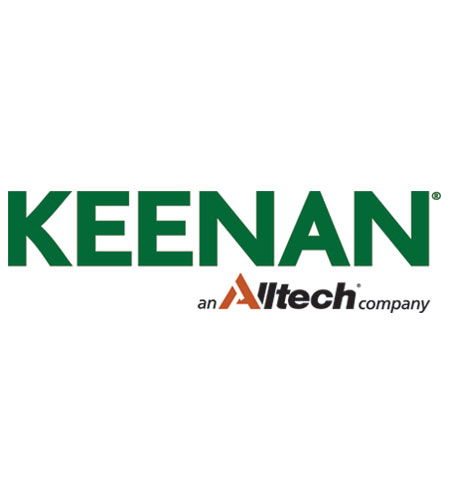 Alltech E-CO2 Farming Stats
THE AVERAGE FARM USES ENOUGH
ELECTRICITY TO BOIL THE WATER FOR
5092446
CUPS OF COFFEE A YEAR
THE AVERAGE ASSESSED HERD SIZE IS
000

COWS
PRODUCING 7,722 LITRES EACH
WE HAVE FOOTPRINTED OVER
00,000,000
QUARTER POUNDER
BURGERS WORTH OF BEEF
WE HAVE FOOTPRINTED OVER
0,000,000,000
LITRES OF MILK
ENOUGH TO FILL
0000

OLYMPIC
SIZED SWIMMING POOLS
THE AVERAGE LAND AREA
PER FARM ASSESSED IS
000

HECTARES
OR

000
FOOTBALL PITCHES