Feed Efficiency
The Alltech® Feed Efficiency programme supports your animals in achieving optimal health throughout their lifecycle, addressing nutritional issues including digestibility, diet flexibility, feed costs and overall performance.
As feed costs represent the biggest input for farmers, often accounting for up to 70 percent of production costs, it is important to make sure each bite of feed is digested efficiently.
The Alltech Feed Efficiency programme helps farmers achieve consistent performance in their herd's diet. The program utilises technologies that work in synergy with the animal's own digestive system to stabilise rumen pH, maximize nutrient release and reduce the overall cost of feed.
To find out more, click the link below: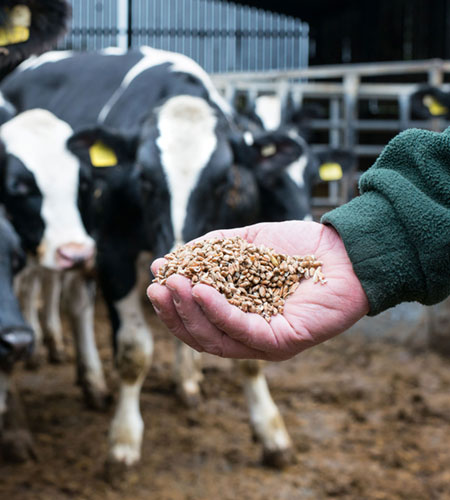 Alltech E-CO2 Farming Stats
THE AVERAGE FARM USES ENOUGH
ELECTRICITY TO BOIL THE WATER FOR
5092446
CUPS OF COFFEE A YEAR
THE AVERAGE ASSESSED HERD SIZE IS
000

COWS
PRODUCING 7,722 LITRES EACH
WE HAVE FOOTPRINTED OVER
00,000,000
QUARTER POUNDER
BURGERS WORTH OF BEEF
WE HAVE FOOTPRINTED OVER
0,000,000,000
LITRES OF MILK
ENOUGH TO FILL
0000

OLYMPIC
SIZED SWIMMING POOLS
THE AVERAGE LAND AREA
PER FARM ASSESSED IS
000

HECTARES
OR

000
FOOTBALL PITCHES