Dairy Pro
Alltech E-CO2 works with UK based professional development register Dairy Pro, to enhance the development of our farmers.
Dairy Pro is all about the dairy industry's commitment to learning and professionalism.
Their accessible record of training and development helps to improve the career prospects of individuals, support farmers and managers in attracting and retaining better staff, and enhancing business performance.
Together, these help develop technical abilities, increase understanding of industry issues and advance personal skills.
Farmers undertaking an EA assessment are eligible for 3 Dairy Pro points, whilst Swift-EA assessments are eligible for 1 point.
Our various meetings and workshops also allow a farmer to qualify for 1 Dairy Pro point.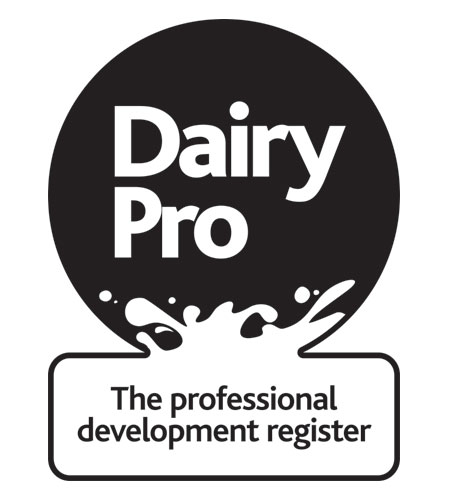 Alltech E-CO2 Farming Stats
THE AVERAGE FARM USES ENOUGH
ELECTRICITY TO BOIL THE WATER FOR
5092446
CUPS OF COFFEE A YEAR
THE AVERAGE ASSESSED HERD SIZE IS
000

COWS
PRODUCING 7,722 LITRES EACH
WE HAVE FOOTPRINTED OVER
00,000,000
QUARTER POUNDER
BURGERS WORTH OF BEEF
WE HAVE FOOTPRINTED OVER
0,000,000,000
LITRES OF MILK
ENOUGH TO FILL
0000

OLYMPIC
SIZED SWIMMING POOLS
THE AVERAGE LAND AREA
PER FARM ASSESSED IS
000

HECTARES
OR

000
FOOTBALL PITCHES