Cost of Production
Keep track of your business performance with our unique costings tools. To minimise disruption to the producer and reduce additional time needed on the farm, Alltech E-CO2 is able to seamlessly integrate a Cost of Production analysis alongside our other on-farm services.
Cost of Production analyses for all major livestock species are available across three tiers, with each tier including additional elements which affect overall cost of production and farm profitability.
1. Cash costs – these include the basic income from milk or meat and animal sales, coupled with both fixed and variable on-farm costs.
2. Economic Cost of Production – Total cash costs including depreciation, family labour and rental value of land owned.
3. Full Economic Cost of Production – Economic Cost of Production plus other income streams such as farm subsidies.
Integrating these approaches provides multiple benefits throughout the supply chain. As a carbon footprint is a holistic indicator of on-farm efficiency, incorporating a detailed cost of production into analysis can effectively allow for the communication of recommendations which can improve the efficiency, profitability and sustainability of a farm business.
Furthermore, such analysis allows a farmer to further appreciate the economic gains or losses that are associated with on-farm inefficiency.
Contact us to arrange a business performance review on your farm.
The Cost of Production analysis can also be carried out without additional Alltech E-CO2 services.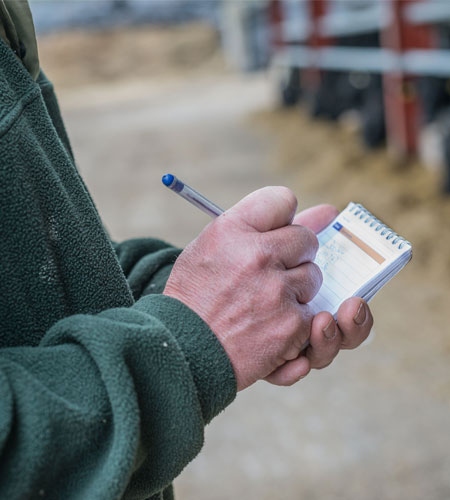 Alltech E-CO2 Farming Stats
THE AVERAGE FARM USES ENOUGH
ELECTRICITY TO BOIL THE WATER FOR
5092446
CUPS OF COFFEE A YEAR
THE AVERAGE ASSESSED HERD SIZE IS
000

COWS
PRODUCING 7,722 LITRES EACH
WE HAVE FOOTPRINTED OVER
00,000,000
QUARTER POUNDER
BURGERS WORTH OF BEEF
WE HAVE FOOTPRINTED OVER
0,000,000,000
LITRES OF MILK
ENOUGH TO FILL
0000

OLYMPIC
SIZED SWIMMING POOLS
THE AVERAGE LAND AREA
PER FARM ASSESSED IS
000

HECTARES
OR

000
FOOTBALL PITCHES